This is a special one! June has been a blockbuster month in terms of closing high-value data partnerships that will enable us to fulfill even more rapid revisit capabilities from high-resolution satellite constellations.
But that's not all! Check out everything that we've been up to this month 👇
——— ✨ What's New? 🚀 ———
We Just 4x'ed Our Satellite Data Offering 😱🛰️
The UP42 offering is expanding fast. The ability to offer a wide range of data from multiple providers is key to our customers seeing value from UP42. Indeed, this previously included a respectable 15 satellites, along with a great selection of aerial imagery, weather data, AIS data, and processed data sets.
However, the UP42 offering has just expanded from 15 to 55 satellites in just over a month. This enables us to offer you higher revisit at very high-resolution, a more comprehensive range of data types, and more flexibility on price, AOI, and minimum corridor size.
UP42 Partners with HEAD Aerospace
HEAD Aerospace's constellations bring several capabilities that augment UP42's expanding portfolio of high-value data providers. In addition, the breadth of HEAD Aerospace's satellite data offering opens up a host of new use cases for UP42 customers while improving our ability to deliver high-revisit tasking requests for any AOI.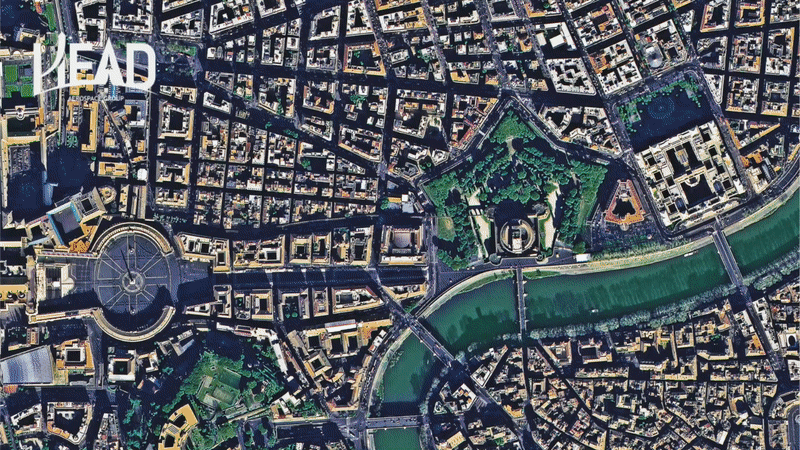 First and foremost, the HEAD Aerospace constellation adds 27 satellites that capture imagery at a submeter spatial resolution. This furthers UP42's ability to reliably deliver high-resolution imagery of anywhere on Earth in partnership with HEAD Aerospace and our other data providers.
The EarthScanner constellation offers another incredible capability. With swaths up to 136km, imagery of very large areas can be captured in a single pass. This is perfect for monitoring entire countries or large cities up to 40,000km2 without mosaicking.
Monitoring use cases are only as effective as the revisit capabilities from the underlying data providers. Combining constellations, HEAD Aerospace can capture imagery of the same AOI multiple times a day and night, unlocking surveillance, monitoring, and change detection use cases. Additionally, capturing data at night opens tons of new monitoring and surveillance use capabilities. HEAD Aerospace brings to UP42 the ability to capture both imagery and video with nine on-orbit satellites that capture nighttime in true color.
But the capabilities are certainly not limited to surveillance and monitoring use cases. For example, the HyperScan constellation allows for data acquisition with 25 spectral bands spanning the visible, near-infrared, and mid-infrared portions of the spectrum. This is ideal for enhanced agricultural insights, such as identifying vegetation species or crop health moving far beyond elementary analysis, such as NDVI.
The HEAD Aerospace offering differentiates itself further by including satellites equipped with altimeters and able to acquire tri-stereo imagery. These capabilities translate to vertical accuracies of up to 2 meters, enabling industry-leading maps and elevation models.
UP42 Partners with SIIS
Further supplementing our rapidly-growing virtual constellation is our partnership with SIIS, making tasking and archive data acquisition from very high-resolution optical satellites, KOMPSAT 3 and 3A, and high-resolution SAR satellite KOMPSAT 5, available to UP42 users.
These two new partnerships take the total number of satellites that UP42 offers data from to over 50, making UP42 even more competitive in terms of revisit, resolution, and a whole host of unique and innovative capabilities. Check out our complete data offering, including optical, radar, elevation models, and hyperspectral data, by clicking the link below!
Integration of HERE Maps 🗺️🔎
We've integrated one of the leading map providers, HERE Maps, into our catalog search and job configuration screen. This integration brings a much nicer search experience, as well as a more feature-rich and aesthetically pleasing basemap!
The integration with HERE Maps brings much more advanced geocoding, which among other enhancements, provides better performance for non-Latin words. We can now also support searching based on coordinate formats, such as 45.314483, 30.714823 or 45°18'52.1" N 30°42'53.4 "E. You can search based on coordinates, and the platform will simply go ahead and select a small AOI around that point. You can then manipulate that AOI to fit your requirements. Of course, users can still upload their AOI in GeoJSON format and have their AOI automatically selected!
Land Lines Image Segmentation 🌲⬡
This block from our new partner and leader in forestry inventory management solutions, Tesera, generates GeoJSON polygons that follow major land surface features, including water bodies, rivers, vegetation cover, and types. It uses Sentinel-2 multispectral imagery at 10-meter resolution as an input, generating two sets of land line polygon segments that average 1 hectare and 10 hectares, respectively.
Specifically, this processing block uses the Sentinel-2 L2A Analytic (GeoTIFF) block from UP42 that provides bottom-of-atmosphere reflectance values that are analysis-ready. This increases the reliability and reduces errors in the results caused by atmospheric interference and other non-feature-related noise that can be present in uncorrected satellite imagery.
The polygon output can be used for multiple use cases. Firstly, analysis can delineate vegetation changes and disturbances, like fires or cutblocks, at much a larger scale faster and lower than airborne remote sensing. The land lines can also be used as a pre-processing step for classification use cases, such as land cover classification or forestry mapping.
Credit Holds - Purchase with Confidence 💰🔒
Back in December, we launched our price estimation - one of our most hotly-requested features. Backed by data on the thousands of jobs that UP42 customers have run previously, our data science team built a machine-learning algorithm and a basic rule set algorithm that provides an estimated range of data, processing, and infrastructure costs.
This estimate is available both within the console or through the Python SDK, leveraging the command, workflow.estimate_job(input_parameters).
This estimate, along with the prices given during the data ordering process within the catalog search, is now used to ensure that you don't send your account spiraling into minus, even when you're running multiple jobs or ordering multiple data sets concurrently. As a result, you and your team can concentrate on analysis or data acquisition, running jobs, and ordering data with confidence, knowing that you won't end up with an account in minus.
——— 📅 In Case You Missed It 😱 ———
How Geospatial Tech Cultivates Digital Farming - Keely Roth | Looking UP With UP42
In our latest episode of the Looking UP with UP42 series, UP42 CEO Sean Wiid talks to Keely Roth, Data Science Manager at The Climate Corporation, about digital agriculture and remote sensing trends.
New and Improved Video Tutorials
UP42 is a technical product with a powerful feature set that can be a little overwhelming. But our new video tutorials are here to help! Allow our in-house geospatial analyst, Elizabeth Duffy, to guide you from registration to insight!
Can DinSAR Help Identify Landslides Before They Happen? A Case Study of Rishi Ganga Valley
18.06.2021 | Elizabeth Duffy | On the morning of February 7th 2021, in high regions of mount Nanda Devi in the Himalayan range… Read more
Forecasting Drought in São Paulo With Meteomatics Precipitation Data
11.06.2021 | Larissa Ott | In 2014, Brazil experienced its worst drought in 100 years. After months of unusually low precipitation amounts, water reservoirs were drying up… Read more
Introducing Tesera - Our New Partner In Forestry
03.06.2021 | Nathan Davis | We sat down with Bruce MacArthur, President and CEO of remote sensing and forestry industry leader, Tesera… Read more
——————————
That's it for now. But we have tons of exciting things in the works that we'll announce in the coming weeks and months, so keep your eyes peeled in Release Notes, or if you can wait a whole month, we'll meet you back here in July!